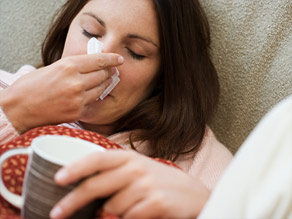 Autumn is most definitely here. There has been a noticeable change in the weather and it has been a lot chiller in the past few days.
With the colder weather comes the inevitable cold and flu season complete with the unenviable red swollen nose!
Follow these 5 tips to boost your immune system and ensure you don't succumb to the sniffles this cold and flu season!
1. Eat Fermented Foods
A huge portion of your body's immunity is in your gut. There is a delicate balance between the "good" bacteria and the "bad" guys with many factors impacting the ratios. These include stress, diet, genetics and medication. An imbalance or dysbiosis can contribute to poor absorption of nutrients and a compromised immunity. It is therefore vital that we eat fermented foods to ensure we get a good intake of healthy bacteria. Fermented foods include kombucha, kefir and sauerkraut. All can be purchased in a good health food shop or made quite easily at home. If fermented foods really is not your thing take a good probiotic supplement instead with as many bacteria strains as possible.
Get a better gut and be better prepared for fighting off those ailments! Find out how to make sauerkraut
here
2. Eat The Rainbow
Colourful fruit and vegetables contain important nutrients and anti-oxidants which are very important to improving immune health such as Vitamin C and Zinc. The more colourful your food, the more different anti-oxidants you take in, so try to pack as many as you can into your meals. Why not try a tasty rainbow salad with tri-colour peppers, beetroot, tomatoes, red onion, rocket and avocado?
3. Vitamin D
Studies show that a great portion of those living in the Northern Hemisphere are lacking in Vitamin D. Whilst our bodies can manufacture Vitamin D from sun exposure, shorter days and lower sun height mean we cannot make the levels required for proper immune function. Take a good Vitamin D supplement providing around 1000IU during the winter months to ensure you get adequate levels and don't forget the kids too! Look for an oil based supplement and take with food to ensure good absorption.
4. Get Plenty Of Sleep
Sleep plays a vital part in ensuring we stay fit and healthy. Sleep deprivation suppresses the bodies natural immune function and increases inflammation. This all means that the more late nights you pull, the less likely your body is to fight off cold and flu. Not only does it affect how often we catch a cold, it also affects how quickly we get over an illness when we get one.
So get enough kip! Aim for 8 hours sleep each night.
5. Drink Bone Broth
Homemade bone broth has been used by different cultures through history as a way to build immunity and fight off illness. Bone broth is made by simmering bones slowly, in doing so breaking down bones and collagen. Doing so allows the bone marrow to release minerals, proteins and fats - which are all benefital and healing to the body. Collagen present in the broth also benefits the digestion and is absorbed quickly and easily. Most importantly bone broth also helps to improve the immune system by carrying oxygen to blood cells in the body.
So use that chicken carcass this weekend and make some bone broth, it really couldn't be easier!
I hope this helps you all fend off those colds!
Denise